Contractor management solution
A powerful contractor management system, packed with Health and Safety features to help monitor and manage everything you need in real time.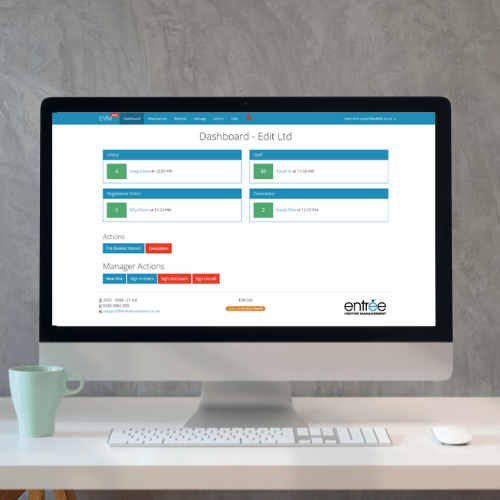 Manage your Contractors with ease
Entrée Contractor Management Software helps construction businesses to effectively and efficiently manage, measure and monitor their worker's time, attendance, work scopes, Health and Safety acknowledgments and documentation. 
Entrée Contractor Systems will enable your organisation to streamline processes, increase productivity and reduce costs through improved management, pre-booking, scheduling and automation of your existing admin duties saving you time, money and errors in your site reporting.  
What is the value of a Contractor attendance system?
Documentation acknowledgement compliance and Inductions
By removing the need to manually prepare schedules, and or collect sign-in sheets or books – you can cut down on costs line by allowing Entrée to provide you with attendance reports on all or individual staff members, whilst also working as your electronic receptionist Entrée prompts your workers to accept important GDPR, Health and Safety Documents and other important site rules helping you protect your business reputation and business compliance.  
Eradicating the inaccuracies of manual time sheets and other manual clocking methods
Traditional time sheets or paper books are prone to errors and manipulation. 

Entrée Contractor Software helps you integrate existing CSCS cards or other RFID staff cards. This accurately records hours worked on site for a construction company helping you ensure that you are not over paying employees. 
Optimise staff scheduling
Have a complete pool of your approved contractors at your fingertips. This tool assist business managers and leaders with creating a work schedule that fulfils departmental needs.  
How Entrée Contractor Systems help construction companies:
Book your free demonstration...