Welcome Guests With Entrée E-Reception Systems
Strengthen and tighten your onsite security and visitor safety with your all-in-one solution.
Trusted by the following....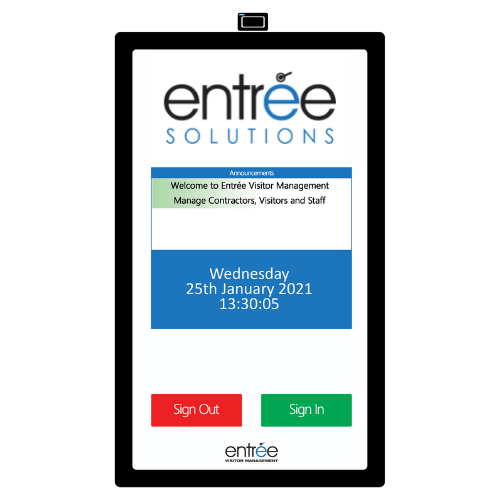 Swap your paper book for a digital solution!
Replace your paper book with a modern, stylish visitor management system which will help you improve safety and security. 
Entrée Solutions will enable you to manage and track your visitors, contractors, staff and late pupils from one centralised system to save you time and make your work day more efficient. 
How can Entrée Solutions help you enhance safety onsite?
Instantly access a fire evacuation register.
Have a smoother and safer fire evacuation by instantly accessing a live register of everyone that is onsite. 
All legal documents must be signed before entering onsite
Whilst signing in your visitor will be presented with all legal documentation (GDPR and health and safety message) to read and agree to, helping you and the individual stay compliant onsite.
Screen your visitors before they enter onsite.
Protect your staff and students from the risk of Covid by screening your visitors before they enter onsite. Your visitor will be presented with a number of questions to determine if they are a safety risk to your business. 
"Our staff can also remotely log into the EVM system via a platform and view occupancy within the building before even leaving home, to get an idea if any areas within the building are free or approaching occupancy"
"Looked impressive, but also did the job we wanted"
"We have been using Entrée Solutions for several years now. The system informs safeguarding and visitor management and helps our reception area operate effectively and efficiently. "
Keep an unmanned reception area or assist your reception staff with our cost effective, Visitor Management System.
Finding something interesting ?
Book a FREE, no obligation demonstration today