Swap your paper book for a digital solution!
Strengthen and tighten your onsite security and visitor safety with your all-in-one solution.
Trusted by the following....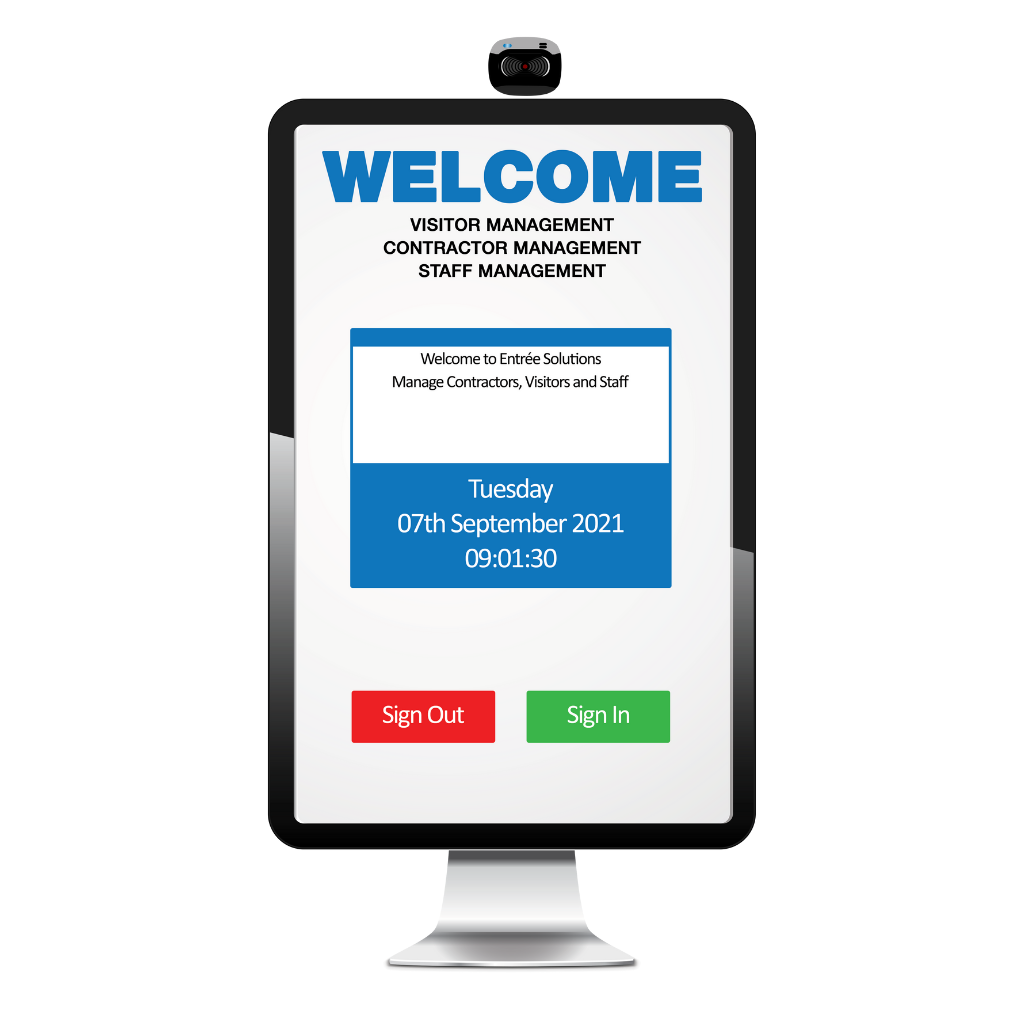 Welcome Guests With Entrée E-Reception Systems
Replace your paper book with a modern, stylish visitor management system which will help you improve safety and security. 
Entrée Solutions will enable you to manage and track your visitors, contractors, staff and late pupils from one centralised system to save you time and make your work day more efficient. 
Keep an unmanned reception area or assist your reception staff with our cost effective, Visitor Management System.
"Our staff can also remotely log into the EVM system via a platform and view occupancy within the building before even leaving home, to get an idea if any areas within the building are free or approaching occupancy"
"Looked impressive, but also did the job we wanted"
"We have been using Entrée Solutions for several years now. The system informs safeguarding and visitor management and helps our reception area operate effectively and efficiently. "
How can Entrée Solutions help you enhance safety onsite?
Instantly access a fire evacuation register.
Have a smoother and safer fire evacuation by instantly accessing a live register of everyone that is onsite. 
All legal documents must be signed before entering onsite
Whilst signing in your visitor will be presented with all legal documentation (GDPR and health and safety message) to read and agree to, helping you and the individual stay compliant onsite.
Screen your visitors before they enter onsite.
Protect your staff and students from the risk of Covid by screening your visitors before they enter onsite. Your visitor will be presented with a number of questions to determine if they are a safety risk to your business. 
Most frequent questions and answers
A Visitor Management System (VMS) is a digital machine designed to help you keep track of visitors entering and exiting your organisation. This fast and secure way automates your sign in process by replacing your paper sign in books/sheets. 
A visitor, staff and contractor management system will integrate its software with door access control solution like Paxton to give you the peace of mind when it comes to your emergency roll call.  
Entrée visitor management systems give you maximum control over your reception area and provide authorisation of your visitors. Each organisation has a responsibility of keeping their guests, staff and contractors safe. Entrée allows you as an organisation to strengthen your on-site compliance and security by storing your visitor information and data securely as well giving you a real time emergency fire evacuation list. 
Having a visitor management system can be beneficial in detecting who was present and when. This information helps catch unauthorised individuals, especially in the event of a lawbreaking or security breaches.  
In addition, in today's world with the importance of contact tracing for COVID-19 spread reduction and other infection control monitoring, these systems have become a vital part of contact tracing procedures.  
Furthermore, unlike a manual sign in book/sheet/log that can be easy stolen, an entrée visitor system protects information of every visitor. This is especially important as governments globally continue to reinforce data privacy regulations (such as the GDPR)  
Contractor management is the managing of outsourced work performed for an individual company. Contractor management implements a system that manages contractors' health and safety information, insurance information, training programs and specific documents that relate to the contractor and the owner client. Most modern contracts require the effective use of contract management software to aid administration between multiple parties. 
Assists organisations to upload work specific assessments  
Manages expirations of work documentation, keeping you compliant at all times 
Contractor attendance monitoring  
Manage risks effectively with reports  
Real time data accessible on your very own management dashboard 
Insight of who's on site  
Know what jobs have been completed or are left outstanding  
Assists in assigning work scopes to contractors  
Securely stores a pool of your pre-approved contractors 
Digitises your work scopes, inductions for contractors to clearly read when signing in to your premises   
Provides cost efficiencies and streamlines business process through the engagement and evaluation of contractors. 
Reduces risk to the business through aligning contractors with your business goals and Health and Safety documentation. 
Enhances the business profile and community perception through leading other businesses to improve safety at work.  
Integrate CSCS cards for a faster sign in process  
Use in unmanned sites and spaces  
Outdoor and portable units to help assist you in any of projects  
Finding something interesting ?
Book a FREE, no obligation demonstration today