On 20 March, the UK government announced a series of measures to assist businesses and employees through the COVID-19 crisis, such as the furlough scheme. Employers were able to contact HMRC for a grant to cover 80% of the wages of employees who were not working and put on 'Furlough.'
Now that the scheme is coming to an end on October 31st 2020, we sat down with one of our employees to discuss the impact the furlough scheme had on him and how the return to work h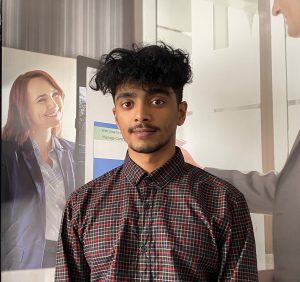 as felt.
 Pasindu is a member of our sales team, he brings in all the leads and sales! He also is our project demonstrator. He travels around the UK to showcase all the features and benefits of our Visitor Management system to schools and businesses. 
"How did it feel being on furlough" 
 I think for everyone it was a strange time. None of us really experienced anything like this before. I remember us being sent home from work at the end of March with the uncertainty of when we would return…the government were uncertain about things which left us even more confused! 
 It was a while ago so my memory is a little fuzzy, but I was put on the furlough scheme on the 2nd week of April. At first, it was like a dream, I could sleep in, relax at home, play games and spend time with the family, it was great! But that started to wear off pretty quickly… After the first couple of weeks, it felt like I was in limbo. It was like that movie groundhog day…. every day I was doing the same thing, over and over again! I had no routine whatsoever. I woke up when I wanted to and tried to keep myself entertained until it was time to sleep. 
 I did try and stay in contact with my friends. We all played games online together but I really did miss that interaction. I missed physically being able to meet up with my friends to hang out or go to a restaurant for food. 
"What did you get up to during your furlough break" 
 Like I said I spent a lot of time with my family, my brother came down just before we were all on lockdown so I was able to quarantine with him which was nice. Everyone is normally working and busy so it was nice to spend some quality time with the family. I think everyone can agree this was one of the only positives about lockdown!
 Other than family I spent a lot of time learning how to cook. I recently became a pescatarian at the start of the year so this was the perfect time for me to learn some new dishes like Masala fish! I also played a lot of games and did a lot of home workouts to keep me busy. 
 "How does it feel being back at work"
 I was soo happy to be back! I was eagerly waiting for that phone call from the directors to tell me to come back and when it came I was honestly over the moon. It was quite refreshing to have a routine back in my life. That first day back was great, it was nice to see such familiar faces and catch up with everyone. It felt like I hadn't seen them in years. Obviously, things are a little different at work with the new Covid rules and social distancing but it's nice to get back to somewhat normality.